Bringing props to life with our augmented reality booth
Bandai Namco approached us with a request for an augmented reality booth to promote the upcoming mobile title Tales of Crestoria at Anime Expo, but not in a manner we had done before. Typically in the photo booth world, AR consists of face tracking and using digital props that are tied to your facial features. Their request was a bit different. They were looking for handheld props that could come to life on an oversized live preview screen, allowing guests to strike a pose and capture a photo.
After the photo was captured, another custom feature was requested. Instead of having a guest type in an email address or phone number to have the photo sent, the client wanted to take a "hands off" approached and have a custom QR code generated on screen that the guest could scan which would link to their specific photo.
We developed the custom augmented reality prop software from the ground up, allowing the camera to track up to 4 props from the game at a time using visual markers that the AR elements projected from. Each prop had its own reveal animation, giving the experience a more dramatic flair, as well as effects such as flames and pulsating glows while the guest posed and took the photo.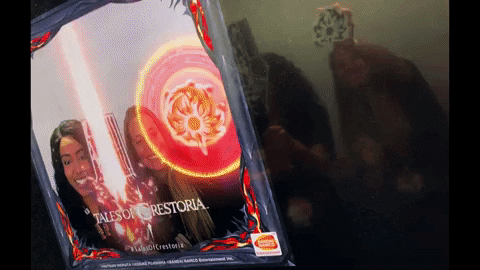 Having the AR element was just the first step. The second custom request was the "hands free" QR code aspect. Our developers created a seamless solution that would generate a custom QR code for that guest's specific image which would appear within seconds after the photo was captured. From there, a guest would scan the code with their phone, and a link to their photo would immediate appear on their device, which they could then download to share with friends or post on social media.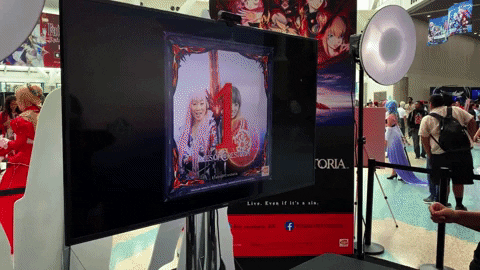 Client: Bandai Namco
Event: 2019 Anime Expo
Service: Augmented Reality Booth
Location: Los Angeles, CA